Belarusian PM hails prospects for cooperation with Russia's Voronezh Oblast
15:27, 28 April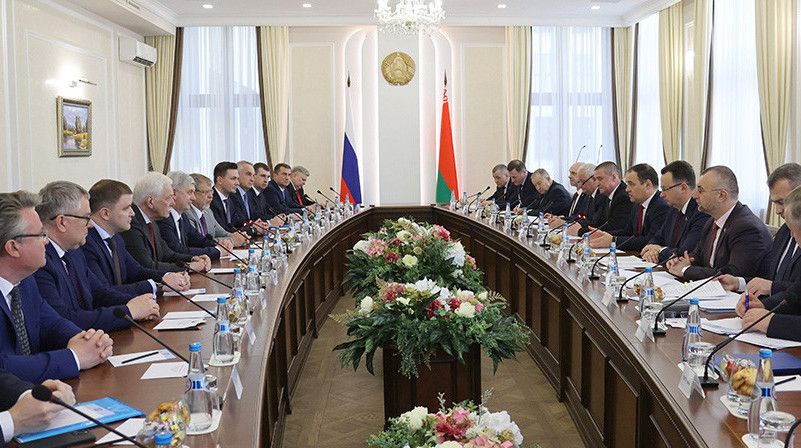 Belarusian Prime Minister Roman Golovchenko met with Russia's Voronezh Oblast Governor Alexander Gusev in Minsk on 28 April, BelTA has learned.
"Promoting direct ties with the regions of the Russian Federation is part and parcel of our policy to promote trade, economic, cultural, and humanitarian cooperation and to strengthen the brotherly relations between our peoples. Recent events in the world confirmed that the course to integrate the economies of our countries is right. We are open to discussing and implementing mutually beneficial projects. Now more than ever it is important that we unite the potential, quickly find complementary things to avoid the slowing down of the economy, ensure sustainable social development of the country and the region," Roman Golovchenko said.
He noted that Voronezh Oblast is an important trade and economic partner of Belarus. "We had good trade in 2021, which increased by almost 30% to approach $350 million. The results in Q1 are something we can also brag about. I think there is every reason for our trade to exceed last year's results. Your visit is very important for achieving this goal. We need to identify new points of growth," the prime minister said.
Roman Golovchenko paid special attention to cooperation in the construction sector. "We are grateful for the trust that Voronezh Oblast put in the Belarusian building industry. On the example of a school built in your region, you were able to make sure that we fulfill our promises and that we deliver. The projects to build a new large educational center in Voronezh, to renovate the stadium are important and will be implemented in the best possible way," the Belarusian head of government emphasized.
Another important topic is industrial cooperation. "You have already visited a number of enterprises of the machine-building industry. We are constantly working to refresh the model range, taking into account the requirements of certain regions. If there are any specific requirements from you, we are ready to take them into account in our production plans. We are interested in increasing the supply of utility and road-building vehicles to your region," Roman Golovchenko said. "Road construction projects can bring our cooperation to a new level. This applies to both the construction and reconstruction of the road network and bridge structures."
Belarus has prepared various proposals for cooperation in the agricultural industry. "If there is interest in cooperation in the field of housing and utility services, water treatment, water purification, we are also ready to offer economical and optimal solutions to address the pressing problems facing the region," the prime minister added.
He also stressed the importance of joint projects in science, technology and healthcare.
Following the meeting, the parties signed an action plan to fulfill the agreement between the governments of Belarus and Voronezh Oblast of Russia on trade, economic, scientific, humanitarian and cultural cooperation for 2022-2024.
In 2021 mutual trade between Belarus and Russia's Voronezh Oblast totaled $348.1 million, which was up by 28.3% over 2020. Exports came at $216 .9 million, up by 16.3%. Belarus' major exports to Voronezh Oblast were cheese and cottage cheese, butter, beef, metal products, ferrous metal structures, plastic containers, parts and accessories for cars and tractors and other goods. Belarus imported mainly sunflower oil, sunflower seeds, margarine, synthetic rubber, dyes, ferrous metal waste and scrap, plastic film and other products.