The Festival of Youth and Students of the Union State will take place in Vitebsk
11:06, 16 March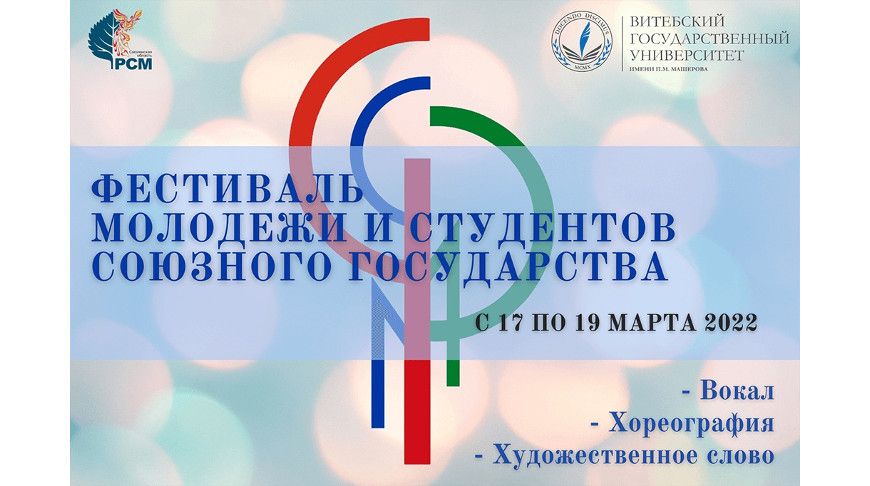 From 17 to 19 March, Vitebsk State University named after P.M.Masherov (VSU) will take place the Festival of Youth and Students of the Union State. The Youth Forum will be dedicated to the Year of Historical Memory in Belarus and the Year of Folk Art and Intangible Cultural Heritage of the Peoples of Russia.
The organizers of the Festival will be the Smolensk regional public organization "Russian Union of Youth" and Vitebsk State University. One hundred and ten performers aged 18 to 30 will demonstrate their talents in performing, choreographic and vocal genres.
As the organizers explained, the Festival of Youth and Students of the Union State is held to support and popularize contemporary creativity among Belarusian and Russian students and youth, as well as to create conditions for the presentation and promotion of creative projects of the younger generation and experimental trends in art and creativity, the development of youth parliamentarism.
Dialogue platforms will be organized for the participants of the international forum. The rector of the Voronezh State University Valentina Bogatyreva, the chairman of the Smolensk RSM LLC, the director of the Fund for the Support of Protected Areas Evgeny Zakharenkov, the chairman of the board of the republican state-public association "Belarusian Society" Knowledge "Vadim Gigin, will also act as experts, the participants of the youth forum will also have an informative and entertainment program.