Putin watched Zapad-2021 exercise from command center at Mulino proving ground
09:21, 14 September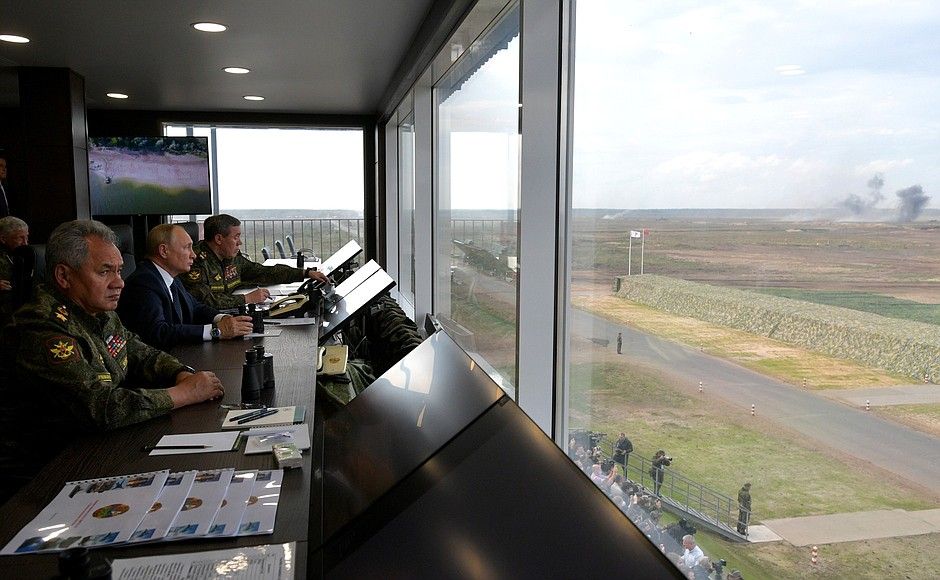 Vladimir Putin visited the Mulino training ground in the Nizhny Novgorod Region to watch the main stage of the Zapad 2021 joint strategic exercises of the armed forces of the Russian Federation and the Republic of Belarus.
The military units of the Russian Federation Armed Forces, in cooperation with troop contingents from the armed forces of Armenia, Belarus, India, Kazakhstan, Kyrgyzstan and Mongolia carry out drills to repel a simulated enemy attack, conduct mobile defence operations, launch a concentrated strike and defeat an enemy formation that has penetrated defensive positions.
The Russian and Belarusian armed forces hold strategic exercises once every two years. In 2021, the drills are taking place from September 10 to 16 at nine training grounds on Russia's territory, in the Baltic Sea and also at five training grounds of the Belarusian Armed Forces.
Overall, the exercises involve up to 200,000 military personnel, about 80 airplanes and helicopters, up to 760 units of military hardware, including 290 tanks, 240 cannons, multiple-launch rockets systems and mortars, as well as up to 15 ships.