Readiness for industrial dialogue between Belarus, Russia's Tatarstan confirmed
09:06, 6 December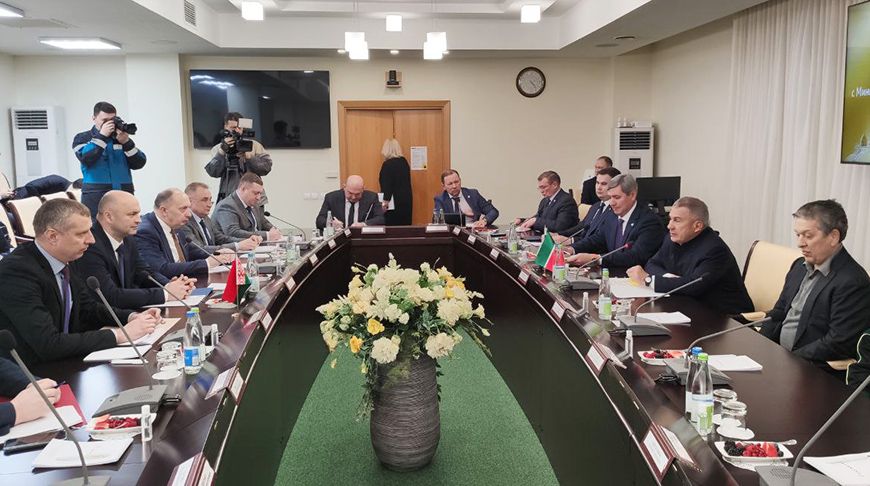 Belarusian Industry Minister Aleksandr Rogozhnik and President of Russia's Tatarstan Republic Rustam Minnikhanov have discussed the potential of bilateral industrial cooperation, BelTA has learned.
The meeting took place as an Industry Ministry delegation led by Aleksandr Rogozhnik visited Tatarstan.
In particular, the sides discussed interest and readiness of the Belarusian automobile manufacturer MAZ and the mechanical engineering company Belkommunmash to participate in renewing Tatarstan's passenger vehicle fleet, including by supplying buses, trolleybuses, tram cars and electrobuses, and by setting up joint ventures to make tram cars.
The possibility of selling Belarusian vehicles with assistance of export promotion tools was mentioned.
Supplies of machine tool equipment from Belarusian companies within the framework of programs on retooling and modernization of Tatarstan industrial enterprises were also discussed.
Aleksandr Rogozhnik stressed that cooperation with Tatarstan in production sector is long-term and constructive. In January-September 2022 trade turnover between the enterprises that report to the Industry Ministry and Tatarstan rose by 40% year-on-year and exceeded $270 million. The export of mechanical engineering products rose by 52% to $198 million. The top exports included products made by the Belarusian steel mill BMZ, MAZ trucks, MTZ tractors, and Gomselmash forage and grain harvesters.
In addition to the organization of deliveries of Belarusian agricultural machines and automobiles joint work continues on implementing manufacturing cooperation projects between industrial enterprises of the sides.
During the meeting the sides reaffirmed readiness for an active industrial dialogue – the enhancement of contacts between commercial entities, the development of industrial infrastructure, and increase in the volume of trade.