Gomselmash to supply upgraded grain harvesters to Kazakhstan
10:12, 26 September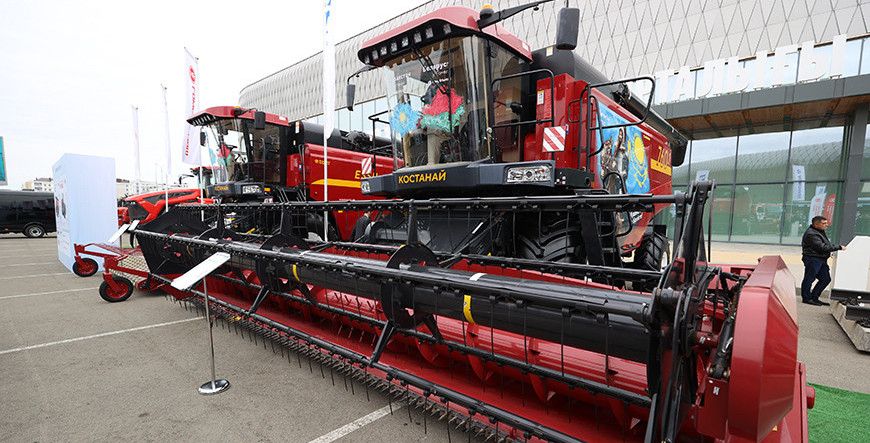 Gomselmash will supply upgraded grain harvesters to Kazakhstan, First Deputy Director for Sales and Development - Director of the Gomselmash Sales and Service Center Dmitry Afanasyev told BelTA on the sidelines of the INNOPROM. Qazaqstan international industrial forum that is taking place in Astana on 25-27 September.
A joint assembly production of Gomselmash equipment was launched in Kazakhstan. "We are jointly assembling grain harvesters under the Essil brand in Kazakhstan. This is a very successful project, we assemble 4,300 grain harvesters," said Dmitry Afanasyev.
"At INNOPROM we showcase the products that we assemble in Kazakhstan. By now the level of localization has already reached 40%. The production of reapers, feeder chambers, and bunkers has been completely localized. The process is ongoing," he noted. "We plan to sign an agreement to supply a new modification of an upgraded 4 Class combine harvester," he added.
Gomselmash Holding Company is one of the largest manufacturers of agricultural machinery and is one of the leaders in the world market of combines and other complex agricultural equipment. The company manufactures a wide range of combine harvesters and forage harvesters, cob harvesters and potato harvesters, mowers and other agricultural machinery. Gomselmash harvesters operate in the fields of Russia, Kazakhstan, Argentina, Brazil, China, the Republic of Korea and other countries. The company has a wide distribution network, joint ventures and assembly factories.
The INNOPROM. Qazaqstan international industrial forum is running in Astana on 25-27 September. Belarus is among the exhibitors. The country's national exposition covers an area of 742m2 (210m2 in the pavilion, 532m2 in the outdoor area). The enterprises that showcase their products and technologies include companies affiliated with the Industry Ministry: MAZ, BKM Holding, Gomselmash, Mogilevliftmash, BATE, BMZ, Minsk Electrotechnical Plant, Atlant, Horizont, Integral.
In addition to them, taking part in the forum are organizations and institutions of the National Academy of Sciences of Belarus, the State Committee on Science and Technology and the Education Ministry (the joint stand features the Optron instrument-making plant, the United Institute of Informatics Problems of the National Academy of Sciences of Belarus, Minsk Research Institute of Radio Materials, Aviation Technologies and Complexes, Center for System Analysis and Strategic Research of the National Academy of Sciences of Belarus, Belarusian State University, Belarusian State Technological University and the Belarusian State University of Informatics and Radioelectronics). Enterprises of the Belarusian state light industry concern Bellegprom are also among the participants of the forum.
Taking part in the INNOPROM. Qazaqstan exhibition are four countries: Kazakhstan and Russia are organizers, Armenia and Belarus are guests. It is expected that the international industrial forum will be visited by business delegations from 20 countries.