Lukashenko meets with senior government members
12:52, 22 July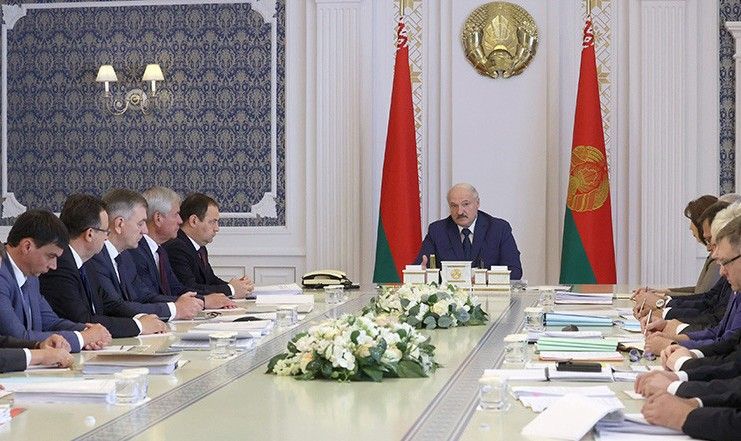 Belarusian President Aleksandr Lukashenko hosted a meeting with senior members of the Council of Ministers on 22 July, BelTA has learned.
"We are to discuss very important draft documents designed to improve public administration and regulation of economic relations. Before they are signed or rejected (it will become clear after the discussion), I would like to consult with you. Therefore, I invited key representatives of the power vertical," the head of state said.
The president emphasized that when discussing these draft documents, the focus should be made on utility, economic efficiency and, of course, social justice.
Radioactive waste management
One of the proposals dealt with disposal and storage of radioactive waste. Aleksandr Lukashenko noted that this type of waste is produced during the operation of sources of ionizing radiation, which are actively used in science, medicine, manufacturing industry and defense complex. The second power unit of the Belarusian nuclear power plant will be put into operation soon, thus the power plant will become the main source of radioactive waste.
"As international practice shows, the management of such waste requires the creation of a unified system run by the state. In fact, this is a new branch of the economy," the head of state said.
The government also proposed to set up a special department for radioactive waste management and a designated organization that will collect, recycle, store and dispose of such waste.
Foreign economic activity and tax administration
As far as foreign economic activity is concerned, the Council of Ministers proposed to introduce the positions of official representatives of the ministries of industry, agriculture and food at the embassy in China, as well as to optimize the service personnel numbers at all diplomatic missions.
To fully digitalize accounting, control and payment of taxes and to improve tax administration, it was proposed to expand the staff of the Tax and Duties Ministry. "I would like to hear the reasoning behind it. Could you explain how additional employees of the Tax and Duties Ministry will ease relations between taxpayers and tax authorities, ensure the de-bureaucratization of this field and simplify tax administration?" Aleksandr Lukashenko asked.
"All proposals imply additional public spending. In this regard, we need rock-solid guarantees that these expenditures are relevant and unavoidable. We must be sure that these proposals will help tackle the most important tasks - from nuclear safety to export growth," the president said.