Lukashenko about sanctions: We will survive and carry on
15:10, 13 July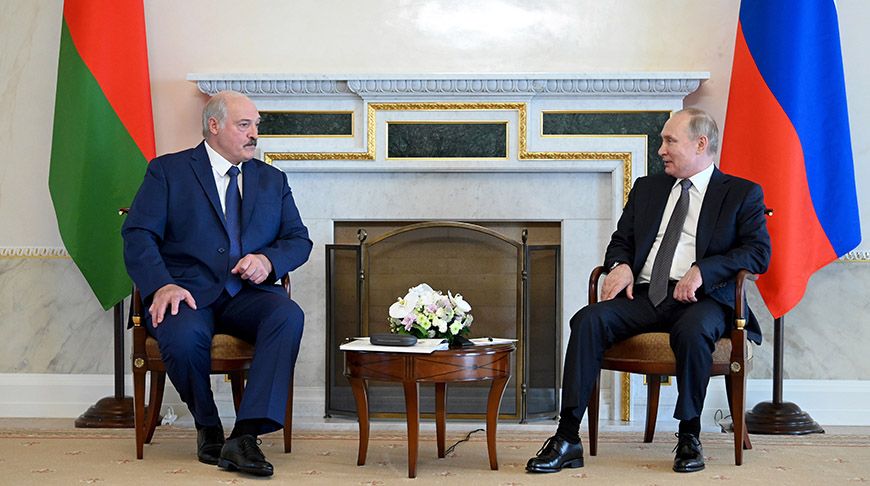 I am sure that Belarus and Russia can effectively resist the sanctions together, Belarusian President Aleksandr Lukashenko said at a meeting with Russian President Vladimir Putin in St. Petersburg on 13 July, BelTA has learned.
One of the main issues that we should deal with is the economy, because both Belarus and Russia are faced with sanctions, new or extended ones, the president noted. Aleksandr Lukashenko believes that the countries will hold out. "I have already said that this should not bother us. After all, we focus on the economy more than the USSR did and prioritize people's interests. We will hold out. Even better – we will continue developing. For sure. They will not succeed in monopolizing the international agenda and putting pressure on us. They will not! The world has changed," the Belarusian head of state stressed.
"Friends' support is great, but we should rely on ourselves, just like we have always done," Aleksandr Lukashenko added.
Aleksandr Lukashenko hailed growing Belarus-Russia trade. "Despite all viruses that, as you have said, try to infect Belarus and Russia from outside," the head of state noted.
Sanctions mean new opportunities, he pointed out. "Since the first so-called sanctions were imposed against Russia, you have achieved great results in export substitution, especially in agriculture. After two or three years, we can see this clearly. This is a fact," Aleksandr Lukashenko said.
"Of course, the Belarusian economy is closely tied to the Russian one. We have preserved relations in many areas, in contrast to some other [former Soviet] republics, in particular, our southern neighbor. We have not severed ties. We have preserved the entire manufacturing sector, have even boosted capacities in certain fields, in part thanks to Russia's investments," the head of state noted.
According to Aleksandr Lukashenko, it has always been difficult for Belarus financially. "You understand why. Russia's financial support has been massive. We are doing our best to honor our financial obligations and will continue honoring them at all cost," the president said.
As for the Western sanctions, Aleksandr Lukashenko pointed out that after another wave of sanctions, Belarus has stepped up its diversification efforts. However, the volume of trade with the European Union in some goods has always been small. For example, $3.3 million and $4 million respectively for MAZ and BelAZ that are currently under sanctions. "We continue operating in our traditional markets as usual. Thanks to the ties that we have maintianed, our economy is able to survive in this difficult time," the head of state noted.
According to him, some issues result not even from the sanctions, but from the global economic slump that affected all countries. "We will hold out," the Belarusian president believes.