Belarus ready to participate in infrastructure projects in Russia's Volgograd Oblast
13:30, 29 March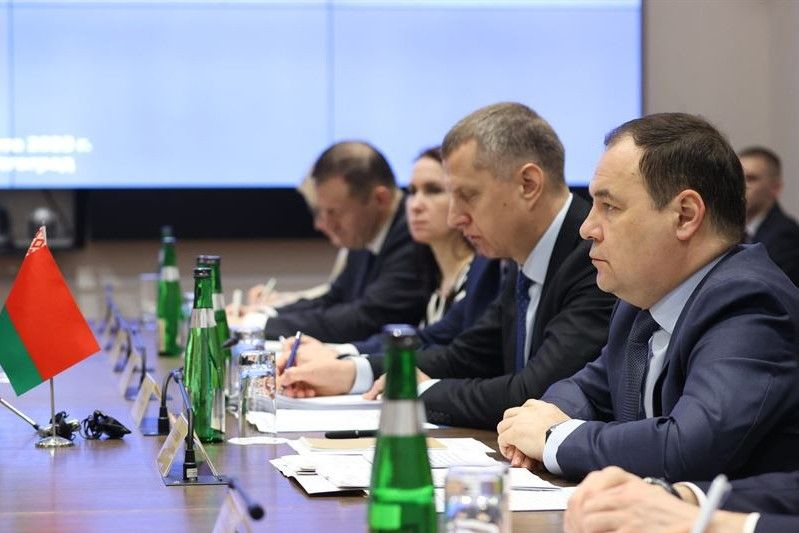 Belarus is interested in taking part in infrastructure projects in Volgograd Oblast. Prime Minister of Belarus Roman Golovchenko made the statement during a joint session of representatives of Belarusian industrial enterprises and the Council for the Development of Industry and Fuel and Energy Complex under the Volgograd Oblast Governor, BelTA has learned.
Manufacturing cooperation is one of the most important areas of work. So far 37 enterprises to assemble Belarusian vehicles and machines have been set up in Russian regions, including nine enterprises with a share of Belarusian capital. A number of Belarusian mechanical engineering industry flagships such as MAZ, MTZ, BelAZ, and Mogilevliftmash have extensive distribution networks in Russia.
Roman Golovchenko said: "We are interested in participating in the realization of infrastructure and investment projects in Volgograd Oblast by means of organizing deliveries of the necessary equipment, materials, vehicles, and machines – all the things needed for such ambitious tasks. We have a good example of participation of Volgograd investors in work in Belarus' territory. In particular, Volma Company has already implemented several projects of manufacturing nature in Belarus' territory. Several facilities are being built. A number of other very promising projects are being discussed. I am convinced that success stories can be and should be scaled up. We are always open to new ideas and proposals and will support them by all means."
The prime minister stressed that the manufacturing sector is the sphere that cements trade and economic cooperation between Belarus and Russian regions. "Volgograd Oblast is no exception. In addition, we have very good structure of foreign trade. I'd even say it is exemplary. It is balanced and takes into account each other's interests. Belarusian enterprises successfully sell passenger vehicles, agricultural machines, municipal vehicles, and rolled metal products to Volgograd Oblast. In turn, Volgograd manufacturers supply us with aluminum, rolled ferrous metal products, bearings, chemical industry goods, and agricultural raw materials. An increase in mutual trade in the extremely complicated year of 2022 only confirms that the time of trials brings us closer to each other, contributes to larger openness towards each other, and maximum usage of the existing potential for cooperation," the Belarusian head of government concluded.