Lukashenko comments on transition of power in Belarus
12:10, 16 November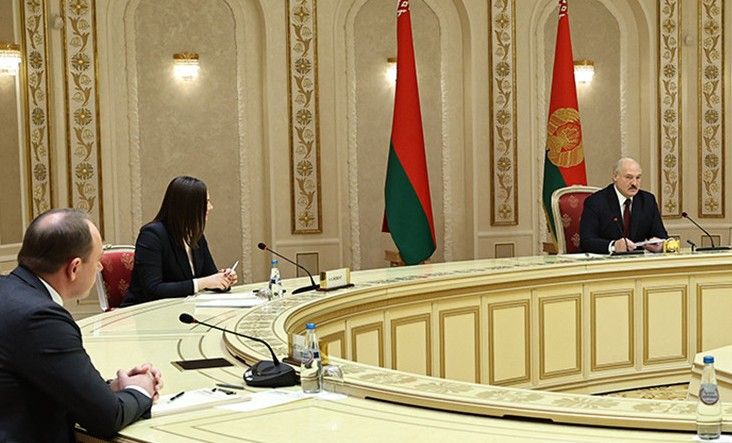 Belarusian President Aleksandr Lukashenko answered the question about the transition of power in an interview to Belarusian and foreign political observers in Minsk on 13 November, BelTA has learned.
"I will not give up [on the presidential powers] all of a sudden. I'm just going to leave this post when time is up. Why 'all of a sudden'? All of a sudden is dangerous,' the head of state said. "Carefully, with the adoption of the Constitution and other things in accordance with the schedule, I will tell the Belarusian People's Congress how we will move forward and under what conditions. They're being worked out now. But by no means under pressure. In no way are we going to abandon people and leave. It's not about me."
"Everyone understood that I was not going anywhere. I will not run away," the Belarusian leader stressed.
"I have nothing but Belarus. I'm holding on to her. Because I know what's going to happen to her. You know what's going to happen to her. I can't betray people, I can't abandon people. This is why we have to talk and agree calmly, so that the country remains peaceful and calm, if Lukashenko leaves, so that all government bodies operate efficiently," the president said. "We need an atmosphere of peace and quiet. And honestly everything depends on the people. Whoever they elect will be in power."
Asked whether Aleksandr Lukashenko would not be preparing a successor for a soft transition of power, he said: "No. No transition of power. No successors. Whoever the people elect will lead the country. I swore that it would be the way the Belarusian people decide. But no one deprives me of the right to explain to people. I will say it and I will give examples and let people choose. No matter how much they love Lukashenko, they will believe him."
The head of state noted that some things that are now proposed in terms of changes were in place in one form or another in previous years. He cited the election of local governments, including governors, as an example. "I saw it in the mid-1990s, when I was a deputy. I witnessed how the Mogilev regional council was electing the governor - the chairman of the regional executive committee. Oh, my God, it took them three days! They were fighting for three days, yelling at each other. I don't know how they managed to pull through because I didn't attend their last session," Aleksandr Lukashenko shared his memories.
"We have been there. What they are proposing today should be formalized in the the Constitution. But if the people want to have it again, a quarter of a century later, let it be. But the price of error is very high. Then we had food stamps, no food. You remember that, Poverty was terrible, as if after the war. We have been slowly coming out of that crisis. And now if something happens... We could lose our independence. We may be divided into pieces again," the head of state warned.