Golovchenko comments on Belarus-Russia recent agreements in industry, transport
14:34, 4 October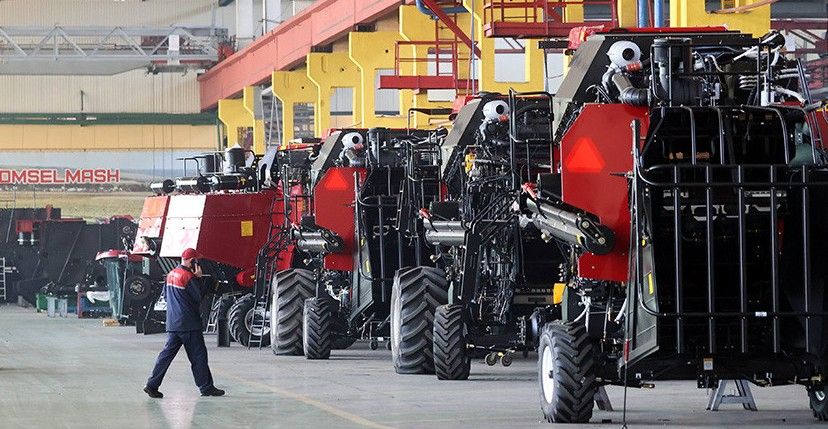 Belarus' Prime Minister Roman Golovchenko commented on the Belarus-Russia recent agreements in industry and transport as he talked to journalists following his meeting with Russian Prime Minister Mikhail Mishustin in Moscow on 3 October. The talks were attended by government delegations of the two countries, BelTA has learned.
"Last week was a busy time for the Belarus-Russia agenda," the prime minister said. He recalled that the parties signed a number of important agreements, including two agreements in the industrial policy. The first one formalized recognition of technological operations that take place in Belarus. "They will be regarded [in Russia. - approx] as domestic. This will open up access to Russian farm equipment subsidy programs. From now on what will be produced in Belarus will be considered as made in Russia," Roman Golovchenko explained.
"This will significantly improve access of our machinery producers to the farm equipment subsidy programs run by the Russian government," he added.
The second agreement on Belarus-Russia cooperation in the industrial sector deals with microelectronics.
"This is a very important agreement; it can be regarded as a final stage of our cooperation in the transport and logistics sector. This agreement was signed last Friday. This document redistributed, if I can say so, our entire cargo traffic that used to go through unfriendly countries. We redirected it to Russia and will use Russia's railway and port infrastructure. This document is very specific. It spells out corridors and cargo volumes, preferential transshipment rates and tariffs. Thus, now our forwarders know exactly where and what they can transport, how much it will cost and what capacity the railway infrastructure has," the prime minister continued.
Roman Golovchenko noted that the parties successfully worked on the previous agreement in the transport sector, which concerned the transshipment of Belarusian oil products. "And by now we have already exceeded the planned volumes. And the things we have agreed on today will greatly benefit all Belarusian forwarders," Roman Golovchenko added.