Belarusian athletes back home from Children of Asia Games
15:02, 6 March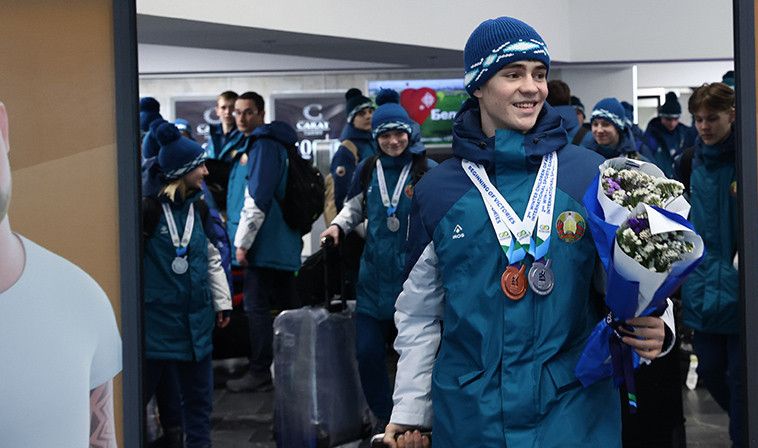 Belarusian athletes were officially welcomed at Minsk National Airport as they returned home from the 2nd Winter Children of Asia International Games, BelTA has learned.
Belarus won 11 (one gold, five silver, and five bronze) medals.
Polina Sivets clinched gold in the 3,000m event. Moreover, Polina also collected two silver medals in 1,500m and mass start. Silver medals were also clinched by Eva Bedritskaya in ski jumping, Matvei Mager, Daniil Bychkov, Darya Stepanova and Ksenia Lukashevich in the short track mixed relay, and Konstantin Kaspierovich in the cross-country friendship relay.
Apart from the mixed relay silver short tracker Daniil Bychkov won two bronze medals in 500m and junior relay. In the junior relay Daniil Bychkov won bronze together with Matvei Mager, Roman Zelenin and Timofei Zhuk. Bronze medals also went to figure skater Vasily Borokhovsky, skier Viktoriya Zhemkova (friendship relay) and speed skaters Roman Chernyavsky, Fyodor Danilov and Radomir Minin (team sprint). In the medal standings Belarus ranked third behind Russia and Kazakhstan.
The 2nd Winter Children of Asia International Games took place in Kemerovo, Novokuznetsk, Mezhdurechensk and Tashtagolsky Municipal District. Taking part in the games were over 850 athletes from 12 countries. The Belarusian team comprised 68 athletes. The games featured 57 medal events in ten sports: ice hockey, snowboarding, ski jumping, cross country skiing, short track, figure skating, aerials, curling, speed skating and Alpine skiing. Kuzbass also featured demonstration competitions in snow volleyball and cybersport.