Russia's Primorsky Krai seeks closer cooperation with Belarusian tractor engineering company MTZ
18:44, 25 March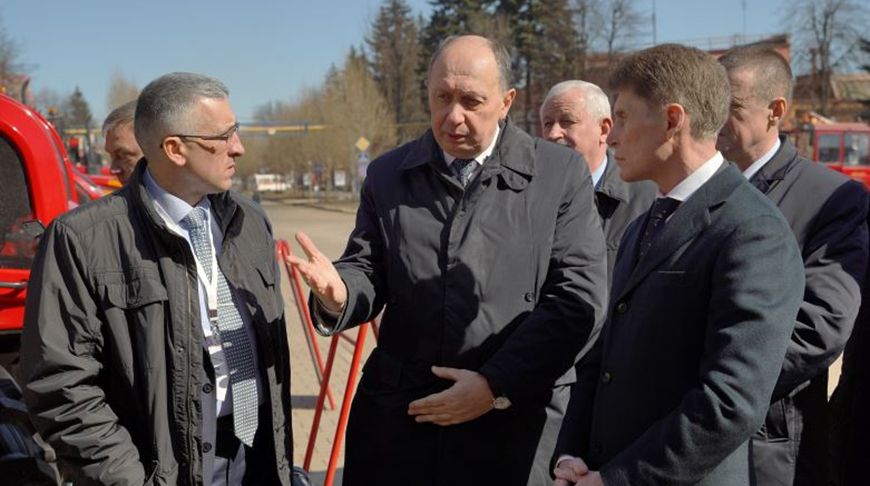 Russia's Primorsky Krai is interested in acquiring snowgroomers, ice resurfacers and also utility vehicles BELARUS. This issue was high on the agenda of a visit of Primorsky Krai Governor Oleg Kozhemyako to the the Belarusian tractor engineering company MTZ in Minsk on 25 March, BelTA has learned from the MTZ press service.
"We traditionally offer a wide range of farm machines and special-purpose vehicles and winter equipment such as snowgroomers and ice resurfacers. We appreciate the high level of cooperation with Primorsky Krai in particular and the Russian regions in general," MTZ Director General Vitaly Vovk said.
Oleg Kozhemyako was particularly interested in the vehicles intended for use by utility services. "We see that MTZ manufactures small-size vehicles which are suitable for cities: they can be used for sweeping sidewalks, raking snow, cleaning street curbs. We need them badly," he said.
The governor also showed interest in MTZ winter vehicles. "An interesting proposal is snowgroomers or ratracs for the maintenance of ski slopes. They are three times cheaper than similar vehicles made in Italy or other countries. Taking into account the growing popularity of skiing sport, I think they will find great use in Primorsky Krai," he said. "We also saw attachments to BELARUS tractors that turn them into ice resurfacers. There are quite a lot of ice rinks in our cities, they need to be maintained."
This year, MTZ has already delivered about 30 pieces of BELARUS equipment to Primorsky Krai. By the end of the year the parties are set to increase deliveries to at least 140 machines, or 27% up from 2020.
MTZ is one of the world's largest manufacturers of agricultural machines. Apart from the main factory the holding company MTZ comprises ten enterprises. As many as 25 assembly enterprises have been established abroad. MTZ products are represented in over 60 countries.