Cooperation between Belarus, Russia's Tatarstan viewed as successful
10:56, 29 April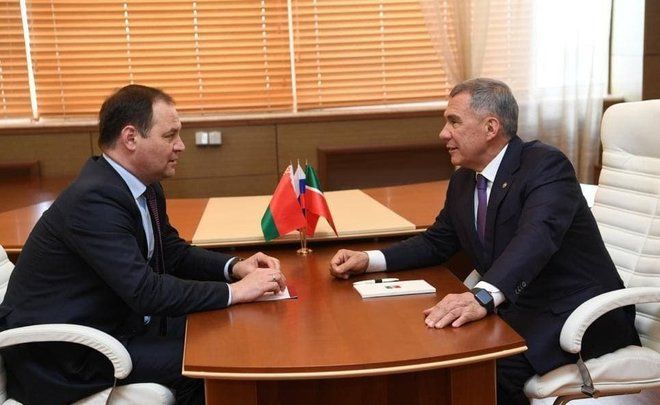 Belarus and Russia's Tatarstan need to step up cooperation, Belarusian Prime Minister Roman Golovchenko during a working delegation-level meeting with Tatarstan President Rustam Minnikhanov in Kazan on 28 April, BelTA has learned.
Roman Golovchenko stressed that Tatarstan is an important trading partner of Belarus and welcomed the growing trade. "This shows that we work together really well. Your region is unique. You are a scientist and industrial hub. We are actively developing ties in industry, science and technology. Cooperation is the key to development," he said.
Following the working meeting, the parties signed a protocol to declare their commitment to further development of trade, economic, scientific and humanitarian cooperation between Belarus and Tatarstan.
Roman Golovchenko also visited the special economic zone Alabuga on 28 April. He toured the MTZ-Tatarstan company that is the only supplier of machinery of the Belarus trademark for Rosagroleasing.
In January-February 2021, Belarus-Tatarstan trade amounted to $174.8 million, soaring by 81.3% over the same period of 2020. Belarus' export came at $54.1 million, which was up by 23.3% year-on-year. Major exports included tractors and tractor units, petroleum gases, wire from ferrous metals without electrical insulation, car and tractor parts and accessories, tires, seamless tubes, profiles form ferrous metals, waste from the production of soybean oil, fresh and chilled beef, and unalloyed steel, cheese and quark, materials for the production of tires, varnishes and paints containing synthetic polymers, furniture and its parts.