Lukashenko: Time to make a step towards the people, who made an error and left Belarus
13:38, 7 January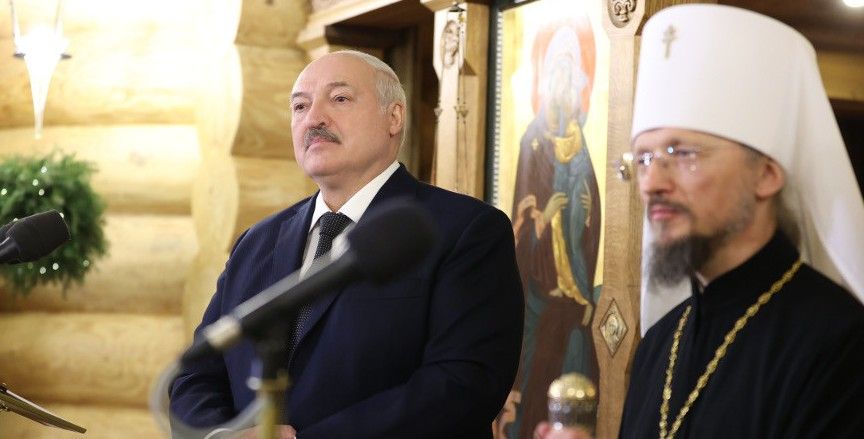 Time has come for the authorities and the general public to make a step towards the people, who made an error and left Belarus. Belarus President Aleksandr Lukashenko made the statement as he visited a temple in the Saint Elisabeth Convent on 7 January, BelTA has learned.
Aleksandr Lukashenko said: "At last very many people have started to understand that no country wants them but their own. Even those, who fled Belarus, are now contacting us in their thousands for permission to come back. We didn't make anyone leave Belarus. It is their land just like it is ours. But they sought a better life and fled Belarus due to various reasons. Time has come when we, representatives of the government, I as the head of state, and you, the clergy should make a step towards these people, who made an error either due to going mad or due to losing their guidelines for some time. And it will be possibly in our way, the Orthodox Christian way to make this step towards them."
"I don't want to say we are caving in to demands of the West… I speak little about it but every day it demands to return and so on and so forth. Even lawbreakers. No. Everyone has to answer for their deeds. But I am convinced that among those, who fled, and among those, who live in our country today, there are people feeling profound remorse, people, who now realize they've made an error. They should not be kicked to the curb," the president said.
Aleksandr Lukashenko stressed there is no need to create tension points in the society because the situation around Belarus is complicated enough as it is. "May god allow us to endure this peaceful and calm way that we had at least last year. They say that 2023 should definitely be better. Honestly speaking, I already want it to be at least as good as 2022 was. We lived that year in peace, accord, and warmth. It is very important as I look around. This year should be as good from this point of view. We will have conditions for living a normal life, working normally (those who want to), and for living in warmth and peace. We will have everything for that," he assured.
"I don't want to specify anything here. But everything has been done to make things better. And if this year will be like last year, we will be fine with it. But I am convinced it will be slightly better. A little bit better. And things will be calmer for us if we don't create tensions in our society on our own. God forbid if things happen the way they did in our brotherly country of Ukraine, in other countries. Tensions were initially created over there with maidan revolutions and the rest. A civil war followed and then a genuine hot war began. Who could have thought that we, Slavs, would war with each other? It is a terrible thing. And everything begins with small things. This is why steps need to be made in order to destroy points of confrontation in our society," Aleksandr Lukashenko said.
The president reiterated: "The authorities (we are ready for it), our clergy, and all of you should simply calmly on this light day and on other days… We still have Easter ahead of us. The lightest and most joyful day. We have to think and come up with the right solution to the issues we have to resolve. As I often say, without leaving these issues to our children to deal with. This is why we will make the relevant steps in the direction that will make Belarus peaceful and calm, that will stop us looking askance at each other. But those, who break the law, will be made answerable. Alas, such is life."