Belarusian BelAZ to expand cooperation with Russian AV Group
10:09, 5 April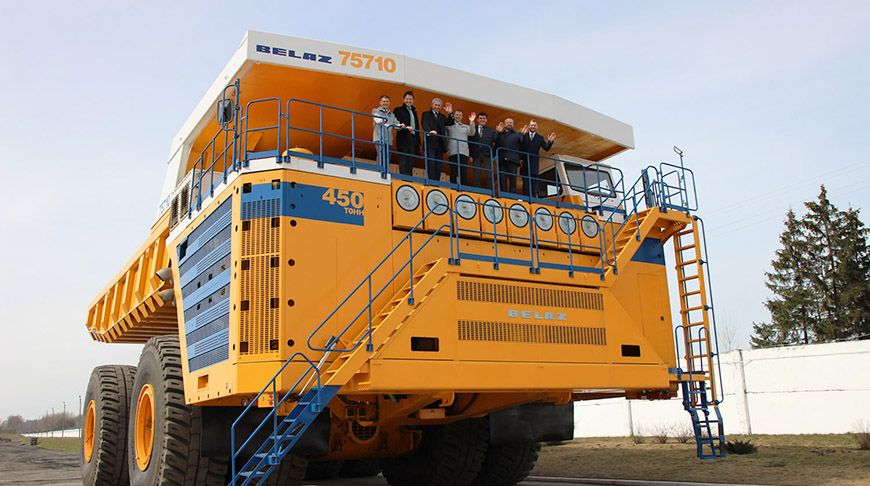 Prospects of long-term cooperation, existing contracts, and plans to deliver BelAZ mining vehicles were discussed as representatives of Russian companies that belong to AV Group visited the Belarusian automobile engineering company BelAZ, BelTA has learned.
AV Group is an international leader in the area of quality and safety of drilling and blasting operations and mining operations. AV Group has been a strategic partner of BelAZ for a long time. It is a rapidly developing group of companies that operates all over Russia, the Commonwealth of Independent States, and in Eastern Europe, BelAZ's press service said.
A number of AV Group companies provide rock mass transportation services to mining companies in Russia's Kemerovo Oblast and Novosibirsk Oblast. They use BelAZ haul trucks as well as other vehicles. These companies use about 50 BelAZ trucks with the carrying capacity of 130-450 tonnes.
BelAZ has sold 15 BelAZ-7555V haul trucks to OOO Azot Mining Service, which is part of AV Group. The new 55-tonne trucks will be used to create a coal cluster in Russia's Krasnoyarsk Krai. BelAZ will ship another 15 haul trucks of the BelAZ-75131 model to Kemerovo Oblast companies in April-May.
Dmitry Duntsev, Director General of OOO AV Mining, which is part of AV Group, noted: "Our cooperation with the Belarusian manufacturer of haul trucks is at the highest level. All the moving vehicles we use for open mining operations are made by BelAZ. Of them 55-tonne trucks are the smallest ones. We also have trucks with the carrying capacity of 130 tonnes, 180 tonnes, 220 tonnes, 240 tonnes, and even 360 tonnes. We are probably the only contractor with 360-tonne haul trucks. BelAZ 7513 series trucks are a universal vehicle. Miners sometimes compare it to a Kalashnikov assault rifle – take it and use it. This is why when we were considering buying 130-tonne haul trucks, we chose only BelAZ trucks. In the time of the vigorous development of the outsourcing market BelAZ is the most important strategic partner for us."
Representatives of BelAZ, BelAZ's distributors, and AV Group discussed the operation of BelAZ vehicles as part of AV Group's vehicle fleet. They also discussed current matters of cooperation and sketched out future steps for expanding cooperation in the next five years.
Ilya Chernilovsky, Managing Director of AO Azot-Vzryv, noted: "Thanks to BelAZ vehicles we intend to acquire new experience of operation of haul trucks in the most complicated conditions, including in the Far North. We hope the experience will be as positive as the current experience of using these trucks in other parts of Russia. I am convinced that later on AV Group's partnership with BelAZ will continue in new mutually beneficial projects."
The public joint-stock company (OAO) BelAZ is the managing company of the holding company BelAZ. BelAZ is the world's leading manufacturer of haul trucks and transport equipment for mining industry and civil engineering industry. BelAZ accounts for some 30% of the world market of haul trucks with an extremely large carrying capacity. The company makes the world's largest haul truck with the carrying capacity of 450 tonnes.