Prime minister wants Belarus-Russia cooperation to produce results in manufacturing sector faster
16:47, 25 April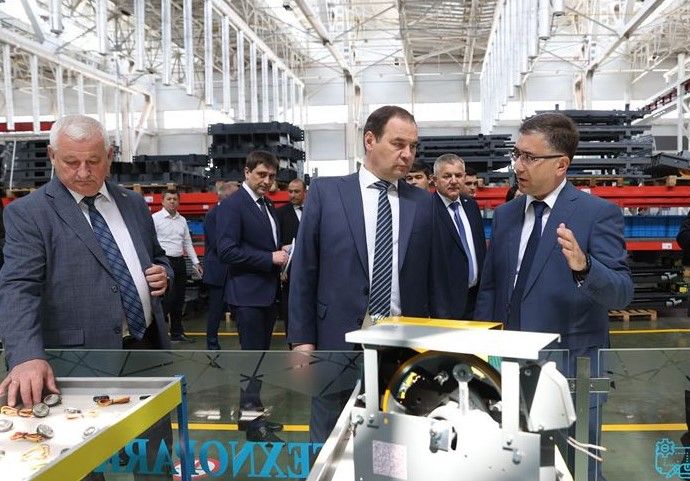 Belarus and Russia have to produce results in the manufacturing sector faster. Prime Minister of Belarus Roman Golovchenko made the statement as he met with Russian Industry and Trade Minister Denis Manturov, BelTA has learned.
Roman Golovchenko said: "We have to produce results faster because time works against us now. We shouldn't act like government officials but like good executives and businessmen."
The official remarked that a considerable range of Belarusian products is on display at the Innoprom. Central Asia expo. It represents another opportunity for advancing bilateral contacts and stepping up cooperation in new conditions.
The international industrial trade fair Innoprom. Central Asia is scheduled to take place in Tashkent, Uzbekistan on 25-27 April. The main branches of the trade fair are mechanical engineering, metallurgy, power engineering, chemistry, pharmaceutical industry, and medical industry.
The Made in Belarus exposition was prepared by the BelInterExpo enterprise of the Belarusian Chamber of Commerce and Industry. Taking part in the exposition are enterprises run by the Industry Ministry (MAZ, MTZ, Gomselmash, Amkodor, and other ones) and the State Science and Technology Committee of Belarus (a joint stand together with the Education Ministry and the National Academy of Sciences of Belarus).
On 25 April the Belarusian head of government also visited OOO Texnopark – a group of industrial enterprises located in Tashkent's Yashnobod District. The group was established in 2019 to make import-substituting industrial products and household appliances.
As many as 14 manufacturing enterprises operate in the territory of OOO Texnopark. They were commissioned in 2020-2021 and make among other things digital gas consumption meters, household refrigerators and cooling systems, lifts and escalators, water pumps, compression molds and dies, fitments and accessories for doors and window frames, aluminum composite panels, panel radiators, and metal structures. A logistics hub is expected to open in 2022 as well as enterprises designed to make gas-fired hot water boilers and heat insulation materials made of basalt stone.