Lukashenko wants diplomats to be ready to defend country's honor
12:12, 20 July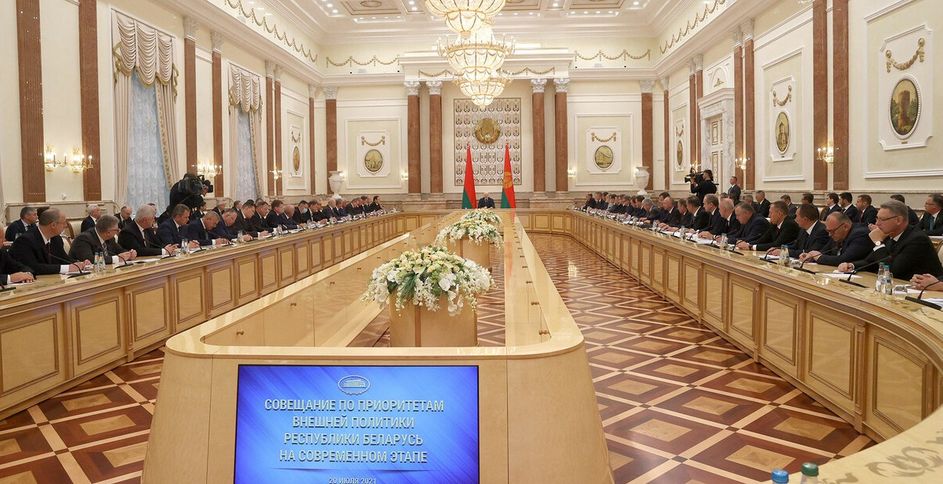 Belarus needs skilled diplomats who are not afraid to defend the honor of their country, Belarusian President Aleksandr Lukashenko said at a meeting to discuss Belarus' current foreign policy priorities on 20 July, BelTA has learned.
Aleksandr Lukashenko instructed the prime minister to report to him in detail about progress in foreign economic activities and ambassadors' actual contribution to the development of trade and economic relations with other countries, and, if needed, suggest other candidates for these posts.
"It's time we got rid of loafers who can only attend receptions with an air of importance. This is part of the job, but the least important one. We need skilled diplomats, true specialists and patriots who will not be afraid to voice complaints and defend the honor of their country. You are soldiers without weapons," the president stressed.
Diplomats are seen as the elite of the society. They should show good manners, decency, and professionalism, not arrogance and the sense of superiority, the head of state believes. "All of you are of the people, you should represent their sincere patriotism, traditional family values, and hard-working nature. You should live up to this instead of following the path of moral corruption and degradation," Aleksandr Lukashenko noted.