MFA comments on rumors about West's desire to disrupt Belarus' election to UN Security Council
14:22, 8 December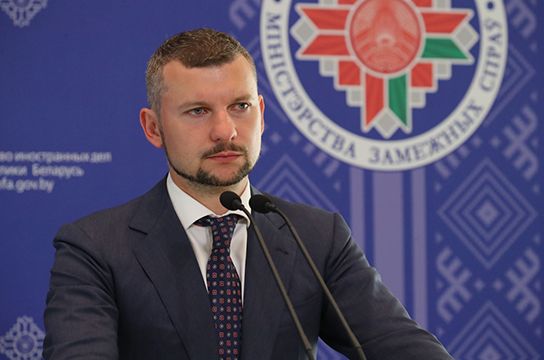 Anatoly Glaz, Head of the Information and Digital Diplomacy Office, Press Secretary of the Belarusian Ministry of Foreign Affair, commented on Belarus' nomination to the non-permanent seat on the UN Security Council and possible attempts by the West to disrupt its election, BelTA learned from the press service of the Ministry of Foreign Affairs.
Anatoly Glaz recalled that since 2007 Belarus has been the only candidate from the Eastern European regional group for the non-permanent seat on the UN Security Council in 2024-2025. Elections are due in 2023.
"As a rule, members of our group file nominations in rotation, in advance. We have such a gentlemanly approach. Therefore the nominations have been scheduled until 2051. We are working as planned, in accordance with the nomination campaign strategy. If elected to the UN Security Council, Belarus will focus on the idea of launching a broad international dialogue to restore trust and strengthen security," Anatoly Glaz said.
The ministry noted that Belarus is aware that the West may nominate a spoiler candidate specifically to disrupt the course of the election campaign. "In this case everybody will understand that this candidate is not an independent player, especially given such a short notice. This will be a puppet candidate to challenge Belarus, which will rely on the strong support of Western countries in its campaign. For the majority of UN member states, such a situation will be obvious and will create a clearly politicized precedent," Anatoly Glaz noted.