The 'Challenge' expedition has begun!
14:38, 5 October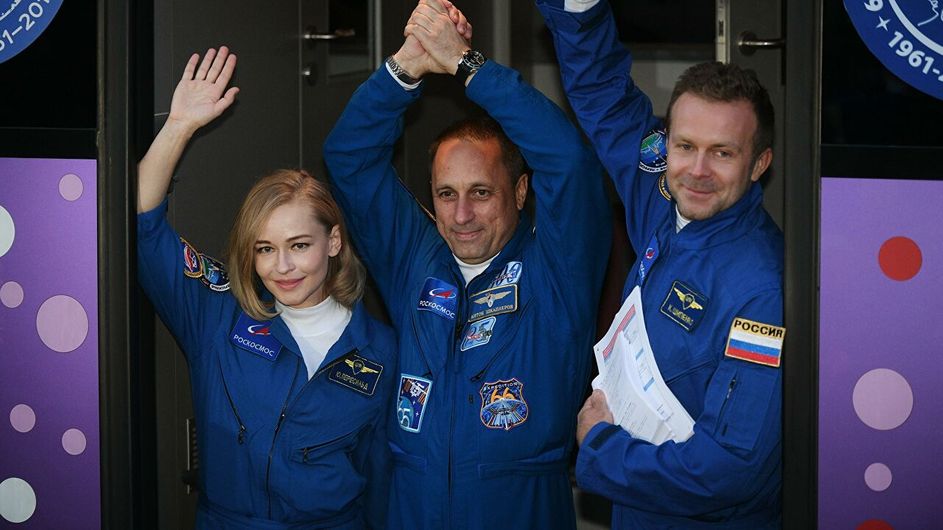 On Tuesday, October 5, 2021, at 08:55:02 UTC, the Soyuz-2.1a carrier rocket launched successfully with the Soyuz MS-19 crewed spacecraft from Site 31 ('Vostok') launchpad No. 6 of the Baikonur Cosmodrome as part of the scientific and educational project 'Challenge'. In accordance with the flight sequence 529.3 seconds into the flight, the spacecraft separated nominally from the third stage of the carrier in the target orbit.
The craft crew is all-Russian crew, including Roscosmos cosmonaut Anton Shkaplerov, filmmaker Klim Shipenko and actress Yulia Peresild.
The flight of the crew (callsign 'Astrey') is performed according to the so-called superfast rendezvous scheme, reaching the ISS in about 3 hours and 17 minutes after liftoff. Its docking to the Rassvet module of the station's Russian segment is scheduled for 12:12 UTC (±3 minutes). The second live broadcast is to begin at 11:30 Moscow time in the 'Online broadcasts' section of Roscosmos website
After arriving at the International Space Station, Anton Shkaplerov, Klim Shipenko and Yulia Peresild will meet Oleg Novitskiy, Pyotr Dubrov, Mark Vande Hei, Shane Kimbrough, Megan MacArthur, Tomas Pesquet and Akihiko Hoshide.
Today's launch was the fourth for the Soyuz-2.1a rocket with a Soyuz MS family crewed spacecraft and crew onboard. The Soyuz-2.1a rocket replaced the Soyuz-FG in missions to deliver cosmonauts and astronauts to the International Space Station.
Soyuz-2.1a is a Russian launch vehicle developed at the Progress Rocket and Space Center (Samara, part of Roscosmos), designed to launch various spacecraft, including transport vehicles and uncrewed spacecraft, into Earth orbit. The rocket's digital control system was developed by specialists at NPO Avtomatiki (Ekaterinburg, part of Roscosmos): it is equipped with a set of Malakhit base units.
The main advantage of the Soyuz-2.1a rocket over the Soyuz-FG is the digital control system, compared to analog one. In addition, the rocket is characterized by improved launch accuracy and increased payload mass in low orbits due to improvements in the control system and propulsion systems of the first and second stages.
The rocket bears a number of logos, including those of the 'Challenge' scientific and educational project and participating organizations. The hull also carries signs commemorating important dates of this year: the 60th anniversary of Yuri Gagarin's flight, which opened the way to space, and the 60th anniversary of the world's first 24-hour flight performed by German Titov.