Kochanova: Belarus-Russia relations advance to new stage
15:08, 1 December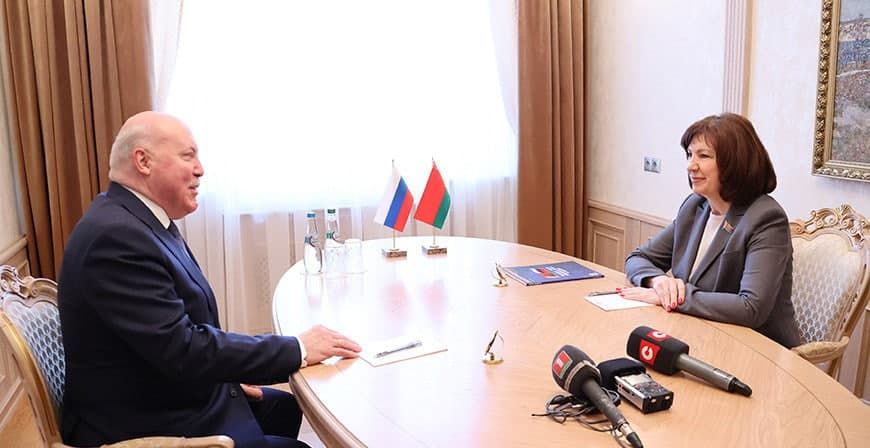 Chairwoman of the Council of the Republic Natalya Kochanova met with State Secretary of the Union State of Belarus and Russia Dmitry Mezentsev, BelTA has learned.
The parties reviewed the results of the Union State summit, and the 28 sectoral integration programs. The parties highlighted the importance of inter-parliamentary cooperation, interaction within the framework of the Parliamentary Assembly of the Union State of Belarus and Russia, and youth parliamentary organizations. Emphasis was made on the need to advance interregional ties, to ensure the implementation of the recommendations and proposals enshrined in the outcome document of the 7th Forum of the Regions of Belarus and Russia.
"I would like to thank you for the work done to prepare the Supreme State Council, to draw up the integration documents. Indeed, a lot of work had been done to bring our countries closer together in all areas. And we, of course, now have to check our approaches to the implementation of these programs," Natalya Kochanova said.
The MPs has a special role to play. "Together with Valentina Matviyenko [Chairwoman of the Federation Council of Russia] we will discuss these issues in the near future. We will see to it that these programs are implemented and that cooperation between our countries always continue in the same vein: in the spirit of unity, mutual support," the speaker said.
This is very important, especially in the current situation, when the West is pursuing an aggressive policy against Belarus and Russia. "We need to be together to ensure that all decisions benefit our countries and our peoples. We must stay united. We appreciate the contribution you make to good-neighborly and friendly relations between our countries. We see how actively the government is working today to promote economic integration. It is worth a lot," said the chairperson of the Council of the Republic.
According to Natalya Kochanova, the two countries have reached an absolutely new stage in bilateral relations.
"Thank you for taking the time to hold meetings of senators and lawmakers in Minsk to shape a new stage of interaction between MPs of the two countries following the decision taken by Aleksandr Lukashenko and Vladimir Putin to launch full economic integration. In my opinion, it is very important that the Council of the Republic, the Federation Council, the State Duma and the House of Representatives compare notes," the state secretary of the Union State said.
According to Dmitry Mezentsev, the adopted decisions are an action plan for the two countries for years to come. "There is no doubt that the Standing Committee, citizens of Belarus and Russia are absolutely united in their approach and understanding of what needs to be done and work daily towards this goal," he added.