Refugee at Belarusian-Polish border: I have nothing to feed and keep warm six kids with
16:54, 8 November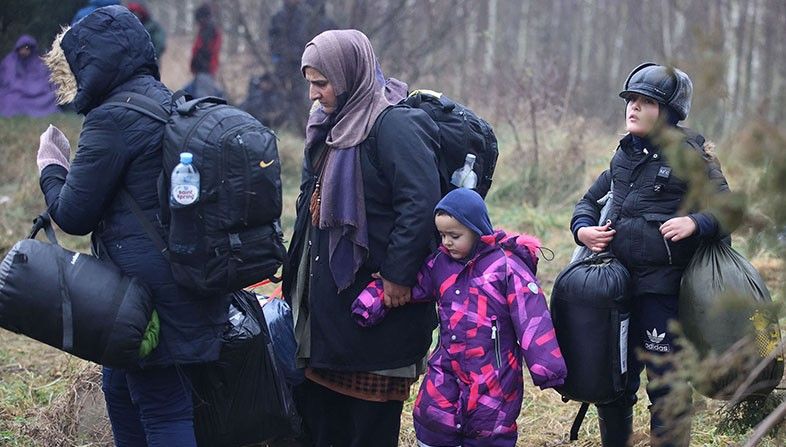 They use gas, do not let refugees cross the border while many are running out of food for kids. Refugees stuck at the Belarusian-Polish border have revealed what they had encountered on the way to Europe, BelTA has learned.
A large group of migrants moving towards the Belarusian-Polish border was noticed not far from the border crossing Bruzgi in the morning on 8 November.
The migrants said they are mostly Kurds. According to the migrants' estimates, about 3,000 migrants are concentrated near the Polish border now. There are many kids in the crowd. They are not allowed to enter Poland.
"They use gas against us. Look what is happening," an elderly man cried out emotionally. His son had been brought from the border on an improvised stretcher. Using a mix of languages he explained that the young man could no longer control his legs and could no longer walk anymore.
An elderly woman repeated the word "Gas!" again and again. She was trying to explain something emotionally to reporters.
Another man said: "Many of us have brought families. I have six kids. All of them are little. There is no food, milk, diapers for them. We have no firewood to warm us up, no tents to shelter us from rain and they don't let us into Europe." He said he and his family had already made several unsuccessful attempts to enter the European Union.
Refugees explained that Germany is the final goal for many of them. "Show us in Germany, in France, tell our story in Europe," the migrants asked.
The State Border Committee of Belarus previously stated that a large group of refugees carrying their belongings was moving along a motorway towards the Polish border. "The Polish border guard has repeatedly stated that it pushes migrants in their thousands towards the border with Belarus. The refugees attempted this step of desperation due to the indifference and inhumane attitude of the Polish authorities," representatives of the Belarusian border service said. The Belarusian side took the necessary measures to ensure the uninterrupted operation of international transportation channels and the safety of the people moving along the motorway.