Makei urges to rebuild "the UN dome"
14:28, 26 September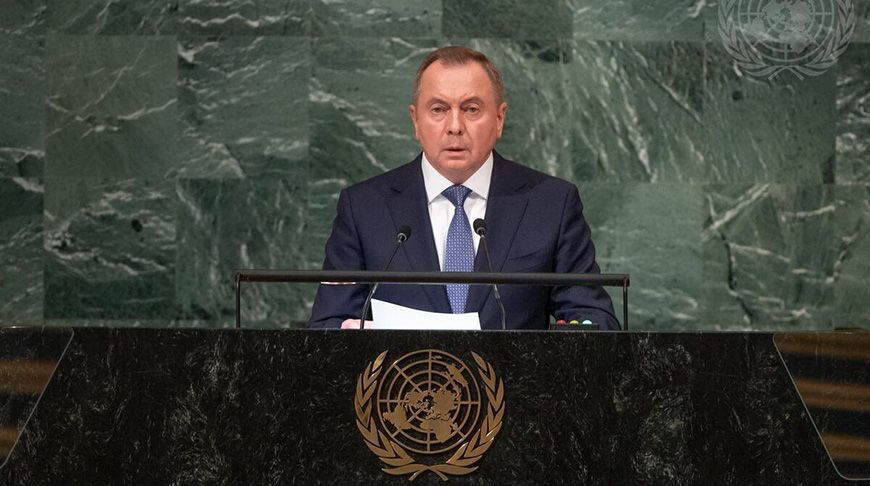 "The UN dome" is beginning to burst with existing problems, so it needs to be rebuilt, Minister of Foreign Affairs of Belarus Vladimir Makei told journalists at an online press conference, BelTA has learned.
The minister recalled that the UN was established in completely different geopolitical realities, on the ruins of the Second World War. "Back then the destructiveness, the disastrous consequences of this war felt acutely. Since then, this feeling, in my opinion, has largely become dumb. Since then, many new challenges and threats have emerged (the pandemic, the climate change, the development of new military technologies), and the tools devised in those geopolitical conditions cannot respond effectively enough to these challenges and threats," he said.
"Today's problems in politics, economy, security go beyond the more or less integral structure that existed before. Today, these problems are bursting open "the UN dome", which was created to respond to various challenges and threats to humanity. Therefore, it is necessary to look for new response mechanisms, to build, probably, a new "UN dome" that would help keep these problems under control. Reform, of course, is needed. The only question is what kind of reform it should be," Vladimir Makei said.
According to the diplomat, today there are different approaches to reforming the UN system. For example, the West promotes absolutely politicized approaches that are unacceptable for most countries, the minister said.
"This was absolutely clear from the orchestrated speeches of a number of Western states and their satellites during the ongoing 77th session of the UN General Assembly. They want to promote to permanent members of the Security Council those states that would later share their stance and speak their voice. They want to limit the right of veto for the permanent members of the UN Security Council. There were absolutely absurd proposals to develop a procedure for exclusion from the permanent members of the Security Council, from the United Nations," the Belarusian diplomat said citing a number of examples.
The position of Belarus, Russia, China and the vast majority of other countries is completely different, Vladimir Makei stressed. "We believe that the reform of the UN and its main structures should be approached carefully and cautiously," he said. "There is no light at the end of the tunnel now. I mean the end of this reformation process. I believe we cannot expect any progress until the Ukraine crisis is resolved or until settlement prospects come in sight," the Belarusian diplomat said.